The Digi Fan 500 is a powerful and versatile special wind machine designed for studios, theatres, theme parks, touring, photographic and more. The Digi Fan 500 is suitable for wide range application including blowing haze, smoke, bubbles, confetti or snow, cooling performers, dimmer racks or amplifiers even drying paint in studio. The DF-500 can be controlled through standard DMX signal or master/slave operation through data link. With a versatile yoke for overhead rigging, floor sitting or stand mounting.
Its housing is constructed from a molded lightweight plastic venting device with rugged tubular steel surrounded for transport and protection.
The 11" one-piece blade and spiral front grill for creating narrow focus wind stream.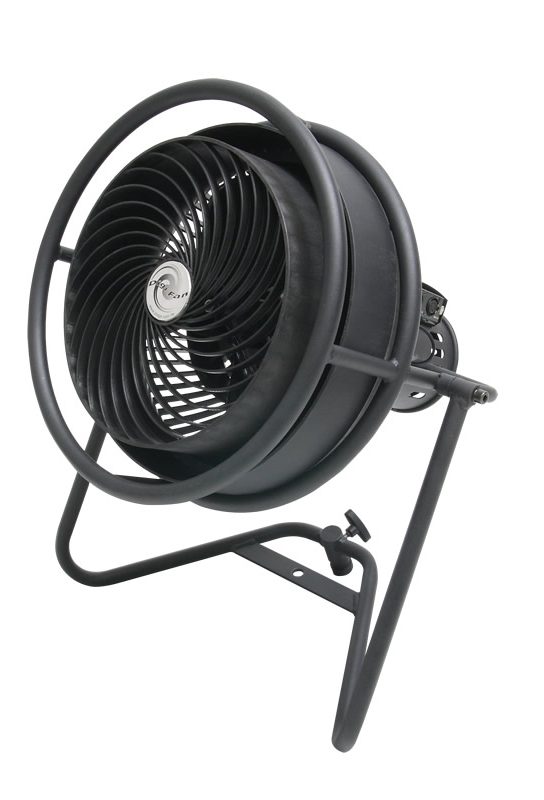 The Digi Fan 500 is Compact, lightweight and powerful.
View our other range & prices here!
FEATURES:
– Power input: 100-240V AC, 1200W, Current Max. 10A.
– Motor: 500W, Max. 3500RPM.
– DMX mode: DMX on-off and volume control.
– Memory: 9 mode memory setting available.
– One touch turbo function: 0-3500RPM within 5 sec.
– Air volume: 1700CBM / hr .
– Wind speed: 60KM / hr .
– Remote controller: Supplied w/3M cable.
– Built-in master / slave control interface.
– Dimension: 480 x 560 x 460 mm.
– Weight: 12.5 kg.
For more details on how this fan works visit: http://www.stage.com.tw/index.php?option=com_content&view=article&id=1038&catid=197&Itemid=101