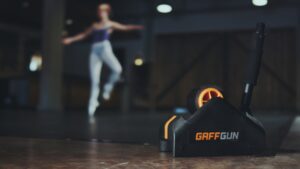 No easier way to tape cables.
The GaffGun™ is the revolutionary tape applicator that lays floor tape over cables. Unlike anything you've ever seen before, it gathers cables and effortlessly lays tape over them. In addition, the GaffGun will apply various
floor tapes
for a variety of purposes. Whether you are seaming a dance floor, marking your warehouse, masking off an area, or laying
double-sided carpet tape,
the GaffGun is the easiest and most efficient way to get the job done. Now matched with the
GGM8
it allows you to use any
tape
of your choice!
This is your chance to buy the latest gaffer tool, the ultimate addition to your toolkit.
Developed for cable management, the GaffGun is now an essential tool for stage and studio alike.
Get off your knees! (See more)
Safety line-marking and timber floor protection with GaffGun? Just do it!
Touring a show or doing Eistedfords?