In 1980, Stanmart broke new grounds by having the first makeup mirrors available in Australia for commercial hire. In doing so make-up mirror hire became a new standard for film, television and makeup. The make-up mirror (AKA MuM) is essentially a mirror with lights used for fashion and makeup. The original Hollywood mirror attracted many imitators, however, Stanmart is consistently improving and maintaining our mirrors with an enthusiastic before and after-sales experience.
Hollywood Classic – Hire ONLY
The Australian Standard for 25 years, these robust mirrors have stood the test of time.
The Hollywood Classic has been our Standby for 20 years but is high maintenance in regard to paint and damage. It comes with two Earth-leakage GPOs on the front and has a bulb-holding compartment in the rear. Features include full earth leakage isolation, two power outlets and separate bulb storage for access.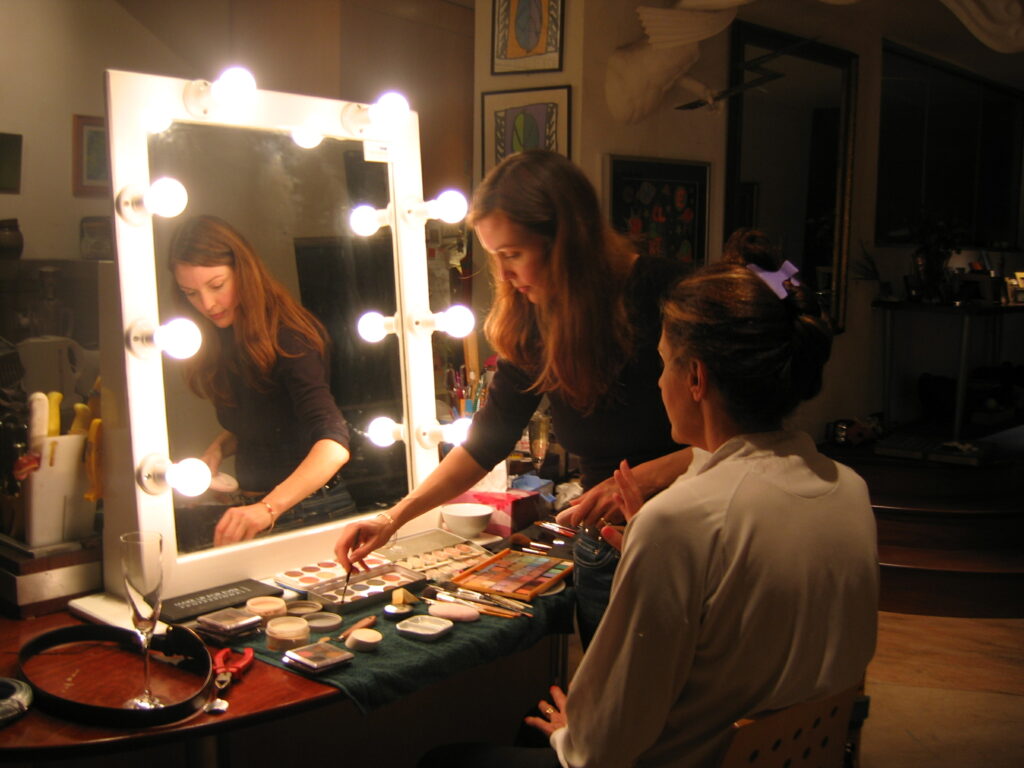 Features:
Interchangeable globes 2700k, 4000k, 6000k – easily adjustable to suit your needs
Generous mirror area
Dual RCD protected Power-Outlets
Our makeup mirrors are distortion-free glass that enables the mak- up artist and subject to have a clear view of the makeup application and result.
You will only be charged for the days of use. Pick up and return days are free of charge.
STM Studio Supplies Mirror Range
Why Makeup Mirrors are so good for makeup?
When you are applying make-up it is important to have the right lighting so that you can see your skin clearly and use the correct amount of colour and shade. When it comes to detailed tasks like grooming your eyebrows or applying eye-liner it really helps to have a make-up mirror with light that you can use to see your face close-up.
Can makeup mirrors be good for your health?
Yes! Eyestrain
Other things edge your makeup regarding their importance. One of these things is your health, more specifically, your eyes well-being. As if the poor lighting and an unnatural reflection given by ordinary mirrors with poor lighting is enough, now you have to worry about seeing an eye doctor due to eyestrain.
If not treated early, eyestrain can lead to regular headaches, weariness, and it can also result in reduced concentration limiting your productivity during the day. Most people remain unconscious of this condition until the side effects become too obvious to ignore. Women experience eyestrain after using mirrors with poor lighting over long periods.
You can avoid this condition by purchasing a lighted mirror. These mirrors not only provide the right amount of light but also ensure that your eyes are not bombarded with harmful light.
Our Makeup Mirrors also Reduce your bills!
In addition to offering poor/dim light that is most of the time insufficient for optimal makeup application, regular lights also use a lot of power to run efficiently. This high energy consumption results in an equivalent rise regarding the energy bill. However, lighted makeup mirrors mostly use halogen or LED bulbs, which not only use little energy to function but also last longer.
As such, your energy bill is lowered not only because of the limited electricity used but as a result of saved expenses, which would have otherwise been used to replace faulty, energy-sapping regular bulbs.